Beautiful blonde babe Emily joins Secrets last week, and she's set to make hearts pound and pulses race with her naturally gorgeous looks and exceptional natural figure.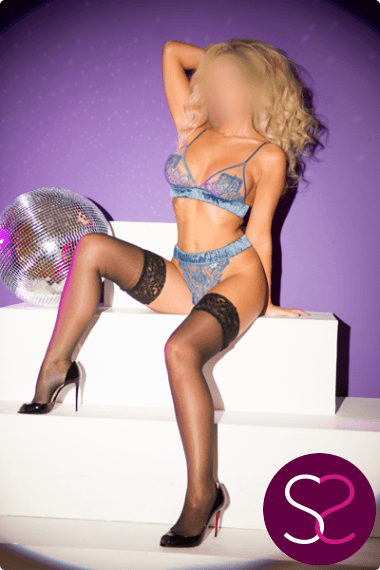 The perfect north-west escort to accompany you and your friends to those exclusive VIP club nights, Emily will make you the envy of every man and woman in the room. If you've ever harboured that dream of being the centre of attention with the most beautiful woman in the club on your arm, then Emily can make that fantasy a reality for you. Be that guy tonight – the man that everyone wants to be as Emily winds her body expertly around yours on the dancefloor, jealous eyes fixed on you, knowing that she's there just for your pleasure. All you have to do is call Secrets on 0161 797 6769.
As well as being beautiful, Emily is a warm, friendly lady who loves the company of men, so if you're looking for a companion to spend the evening with behind closed doors, then book a date with Emily and enjoy having her attentions lavished on you and you alone all night long. Enjoy the rush as you open your door to this tight, toned babe, knowing she's there just for you for as long as you desire. Perhaps start with a sexy, sensual private dance in your hotel room and watch in awe as this beautiful blonde strips sensually before getting down to some serious fun.
Being intelligent, professional and discreet, Emily is the ideal date for any occasion, as not only does she look the part, she's also fabulous company too.
Always well dressed and flawlessly groomed, Emily is the ideal companion for social events and public functions as she perfects the art of looking understated yet stunning.
This gorgeous lady will be much in demand, so call early to check on her availability. Secrets open it's office from 12 pm until very late 7 days a week, and Emily is just a phone call away.