Manchester escort Taylor is one of our newest additions at Secrets. This tall, slender yet shapely babe is a treat for all senses – but especially the eyes.
The kind of girl you might ogle at Glastonbury, but would never have the nerve to approach, this super-sexy stunner is as comfortable rocking a pair of denim hotpants and a seductively sheer white blouse on a festival field as she is wowing the clientele of one of Manchester's VIP bars in her sky high heels and designer dresses.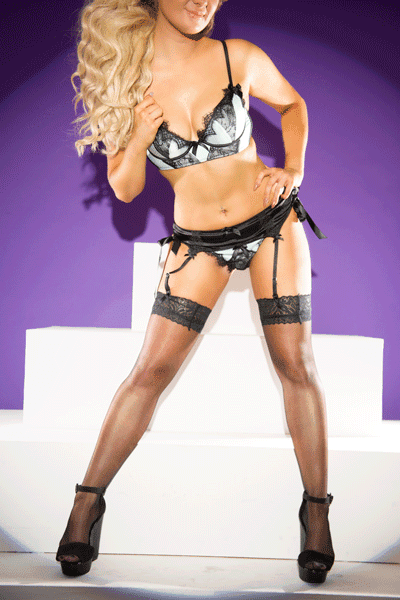 The consummate companion for dinner and theatre dates, Taylor is the kind of girl who you'd be recommended to book on a one-to-one basis. In a sophisticated evening dress with matching heels, this golden haired and lightly bronzed goddess will make the perfect date for your evening out in Manchester tonight. A subtly beautiful courtesan who dresses to impress without raising the eyebrows of your friends and colleagues, Taylor still manages to stir the envy of every other guy in the room even though it's your arm she adorns. Able to converse at every level, this warm, friendly young lady gets on with everyone she meets and she will charm you with her easy conversation, witty, intelligent banter and understated, yet captivating flirtations.
This is the kind of escort you should see if you're sharing a hotel with your boss and work colleagues – she won't arouse the suspicions of anyone you know, but she will make sure they're groaning with jealousy and desire when she leads you up to your room – after all, every guy has to get unbelievably lucky some time, right? Likewise, if you're looking for a girl who's the ultimate discreet treat, and you'd rather revel in knowing that this is your very own Secret to keep, Taylor will arrive at your door as if by magic, and the only people who will ever know about that unforgettable night of passionate fun will be you and Taylor.
Sexy, sensual and seductive, the one thing that Taylor does better than social mingling is stimulation and tingling. A girl who looks as good out of her clothes as she does in
them, Taylor has a faultless body. Just the right height, with a perfectly proportioned bust (anything more than a handful is a waste guys!), cascading honey-blonde tresses, a sun kissed tan and the kind of hourglass shape you dreamed about as a teenage boy, Taylor is slender and statuesque, and 100% femininity personified. This gorgeous Manchester escort loves showing off her many, many assets in traditional lingerie, and confesses that the feeling of straps and stocking tops against her bare skin makes her feel intensely amorous and erotically charged.
An affectionate and tactile escort, Taylor is most definitely a hands-on kind of girl, and a night spent with her will never end in just pleasant conversation – this Manchester escort has far more practical skills she'd like to demonstrate for you. Just be prepared to go all night, because her appetite is nothing short of insatiable.
If you think you can match Taylor's desire and enthusiasm, give Secrets a call on 0161 798 6769 to book a date that will linger in your memory indelibly.