Hey, boys! If you've been a good boy this year and you've worked hard, maybe it's time to treat yourself to a massage to get those festive juices flowing.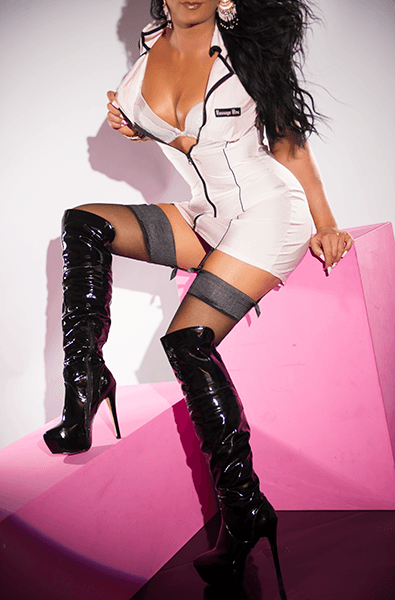 If you've dreamed about being oiled up by a hot and horny masseuse, then you really need look no further as our very own 'Miss Massage' Candice is right here to make your fantasy a reality. Candice is one of the most stunning brunette escorts in Manchester and she can be all yours tonight - with or without her uniform – all you have to do is call.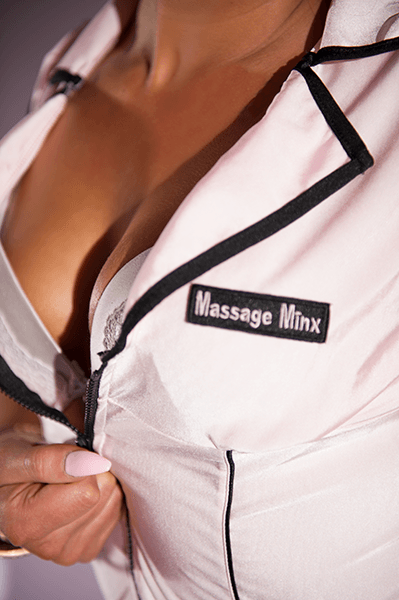 Brunette escorts are seductive, sensual minxes who know how to use their sultry beauty to draw men in, teasing and pleasing until they achieve the ultimate satisfaction. If you've imagined losing yourself in the delicately scented aroma of shining, silky locks or drowning in stunning long lashed hazel eyes, then Candice is the girl for you. What do you think you will enjoy more? A pair of long, toned and tanned legs clad in high, clinging, wet-look thigh boots that lead up ever so temptingly to the sweetness above? Or a pair of firm, pert and supple breasts offered up in a pretty satin and lace bra that pushes them up deliciously and just skims her nipples? Whether you're a legs, bum or boobs man, one thing is guaranteed: you'll love Candice's incredible body, which is toned and honed by regular workouts, both in and out of the gym.
Candice is confident and direct in her approach, being naturally tactile and hands-on. If there's physical activity involved, Candice is all over it, with more energy and enthusiasm that you'll know what to do with. Looking for an escort who'll relax you just enough to rev you up for a session that lasts all night long? Candice is most definitely your girl. With soft hands that love to knead and stroke all your tension away, there's nothing more you need to do than try and lie still as she works her magic – all over your body. Once she's got you supple and pliant – exactly where she wants you – that's when the real fun begins.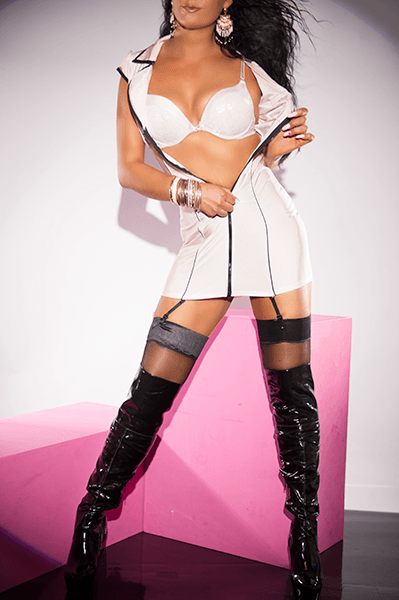 Candice loves to be the boss and can lead the way if that's what you'd prefer, but she is easily tamed by guys who love their companions to be very feminine and subtle in their approach.
Although Candice is definitely a thrill seeker, loving the adrenaline rush of a fast car or motorbike, she is most definitely all woman. Sweet and fun with a dry sense of humour, Candice isn't just a pretty face either. Equally comfortable sipping a cold beer and playing pool in a bar as she is donning a long, glamorous dress for a night out on a red carpet, this versatile lady is suited to just about any date you have in mind, making her the perfect fit for guys of all persuasions. However you choose to spend your time, you'll be spending it in the company of a lady who knows how to dress for every occasion, and who makes the perfect arm candy at any venue.
If you're looking for the perfect female companion tonight – one who only stays as long as she's needed before leaving discreetly, you will be instantly charmed by Candice and wowed by her skills. A beautiful lady who knows how to make any man feel like a king, Candice is the ideal date for an evening spent going out, or staying in and exploring each other in the privacy of your hotel room. All you need to do is call 0161 798 6769 and ask for Candice – and her massage uniform.