"Hi guys, I'm Sasha, and I'm hoping you're ready to open your mind to an unforgettable experience tonight. I'm a wild and willing mature lady who does her utmost to make sure that my work is your pleasure. Spend a few hours with one of the hottest & bustiest escorts in Manchester and you won't want to let me go.
I'm the real deal and will make every wicked thought of yours a reality. If you've never had a taste of brown sugar, I'm your girl – and trust me when I say there's no taste sweeter. I can say with confidence there is nobody out there quite like me. I'm more than just a pretty face and a juicy booty - I'm a party waiting to happen in one hot package. I'll make you laugh, drive you mad with lust and, once it's just the two of us in the privacy of your room, we'll both be making the most of every minute – honestly guys, my toned body just doesn't quit!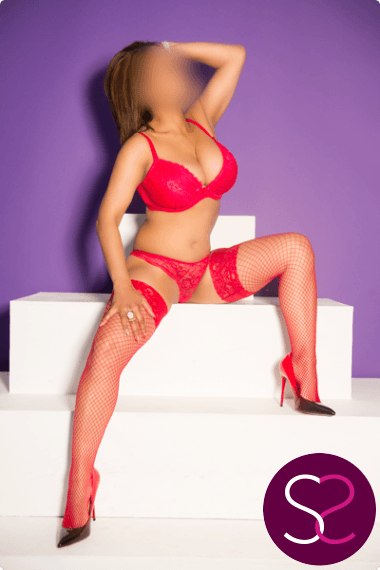 I'm 36 years old, well-spoken and well educated, and very proud to be one of the most requested ebony escorts in the North West. Why do men come back for more time after time again? Because I'm not just a date, I'm an adventure!
Prepare to forget work and stress - just relax and allow yourself to escape with me for an hour or longer. Our time together, including how long you'd like to spend together, is your call. Whether you book me for an hour or all night, you're guaranteed the best ebony escort experience in the North West. Whether you decide that you'd like to go out or stay in, you're going to get the night of your life. You can even tell me how you'd like to see me dressed! Want to see these curves in a clingy little dress when we go clubbing? Or maybe you'd like some one-on-one time and you'd love to see me in white lingerie that shows off my silky smooth skin? Whatever you desire, I'm like a beautiful, exotic genie, and your every wish is my command.
When I arrive with my natural breasts swelling out of a low-cut dress that also shows off my curvy ass, you'll feel like king for the night. I always wear heels and my makeup is always applied to perfection with my plump lips pouting in pink. You'll want me to move fast in getting undressed, but I am all about the tease. Slowly, I'll shimmy and undulate out of my clothes while you salivate in anticipation, and once you have me right where you want me, that's when the real fun starts.
There are so many ways to entertain ourselves in the next few hours, but if you seek an experience you can fantasise about when you're all alone, give me the chance to add a little colour to your life, making your visit to Manchester one you won't forget. It's all in your hands now, baby - all you have to do is call Secrets on 0161 798 6769, and I'll be by your side."