A warm welcome to Secrets latest superstar escort Riley. A very leggy and pretty escort, it won't be long before Riley's admirers are queueing around the block to make a booking with this teen hottie.
With her stunning figure and natural looks, Riley radiates youth and vibrancy and a date with her will be an experience that you won't forget for a very long time.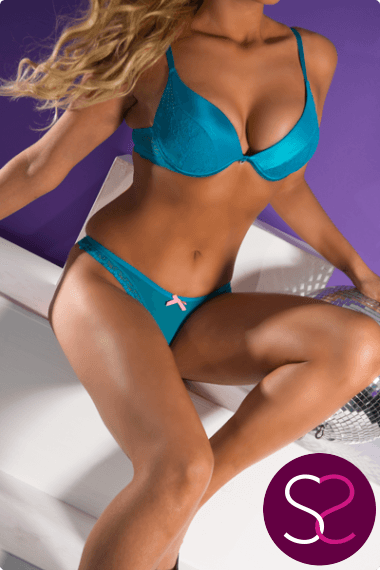 A true party girl escort, Riley looks at her most gorgeous when she's glammed up and ready to hit the town with an entourage of adoring devotees in tow. Her body is tight and toned, so when she dresses in those sexy little designer numbers and those high, high heels, petite princess Riley suddenly becomes a seductive glamazon who is ready to take Manchester by storm. The girl to be seen with in Manchester's hottest bars and clubs, Riley knows where all the most exclusive parties are, and she'll make sure that you're along for the ride. All eyes are always turned in Riley's direction when she's in the room, so if you've ever fantasised about being the guy that everyone envies because they're in the company of the most beautiful woman, then you can be that man on her arm tonight.
A wild and wanton little lady with a very wicked streak, don't be fooled into thinking that this girl has more beauty than brains, for Riley is as comfortable sitting sedately, enjoying dinner and witty conversation in the classiest of restaurants as she is dancing on the podiums of a VIP nightclub. A truly versatile escort, you can be assured that if you're looking for a lady to stimulate your mind as well as all your other senses, Riley more than fulfills that expectation. As polished as she is party perfect, Riley can entertain everyone from young guys seeking the ultimate blow out on the town to businessmen looking for fine dining in the company of an elegant and conversant young lady.
Always dressed to impress in the sexiest of evening dresses and the skimpiest lingerie, Riley takes pride in all the little details and goes all out to make sure that from the roots of her glossy hair to the beautifully painted toes on her dainty little feet, she is top-to-bottom perfection. The kind of girl whose long fingernails can either be brightly coloured, or subtly French manicured, Riley understands that the needs of every man are different, and she ensures that all wishes are fulfilled. From smart, sexy business suits to the tightest, most figure hugging frocks, Riley will arrive exactly as you have requested, and you can be guaranteed that she'll look incredible.
So for your night of abandoned indulgence in some of the best bars and clubs Manchester has to offer, or for the ultimate evening of intimate seduction tete-a-tete, the solution is exactly the same: call Secrets on 0161 798 6769 and ask for Riley and book an unforgettable experience right now.